Difference between revisions of "Pets"
From JellyRO Wiki
 

Line 258:
Line 258:
 

| Egg = Dancing Dragon Egg

 

| Egg = Dancing Dragon Egg

 

| EggID = 30064

 

| EggID = 30064

−

| Food = Small Rice Cake Dough

+

| Food =

−

| FoodID = 7613

+

| FoodID =

 

| Accessory =  

 

| Accessory =  

 

| Bonus =  

 

| Bonus =  
---
Latest revision as of 05:26, 5 June 2018
Pets are benign monsters that follow their owners around Midgard and offer special stat bonuses when they are loyal. Pets are completely ignored by monsters and adventurers (i.e., they take no damage).
Taming Items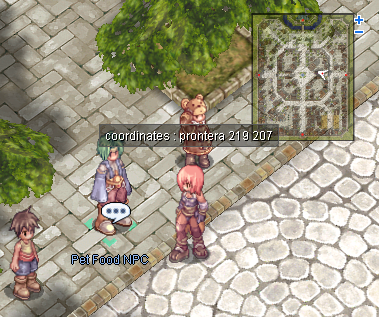 Taming Items are available through shops, monster drops, quests, and seasonal events. They offer a chance of catching a monster; your success is determined by the slot machine that pops up. A Pet Egg will appear in your inventory if the tame is successful.
If you are unsuccessful with the slot machine, the taming item will still be consumed. Using a taming item on the incorrect monster will also cause the tame to fail.
Pet Shops
Pet Tamer NPC (prontera 215,209) (alberta 44,37)
Pet Food NPC (prontera 218,209) (alberta 47,37)
Pet Accessories (prontera 221,209) (alberta 50,37)
Random Tames
Old Blue Box
Old Purple Box
Taming Gift Set (see Kiel Hyre Quest)
Rarer pets can be obtained through Event Boxes. (eg. Anniversary Boxes, Christmas Boxes)
Abracadabra
The skill

Abracadabra is no longer able to tame pets.
Pet Control

Pet Incubators are required to hatch or re-hatch an egg.
You have a few options when right-clicking your pet:
Feed Pet
Performance
Equip/Unequip Accessory
Return to Egg
This menu is also accessible by pressing Alt + J.
Pets will follow their owners around but cannot be moved independently like a Mercenary or Homunculus.
Once you have named your pet, it will become a Beloved pet. To rename a pet, see Gareth Morrowynd.
Raising a Pet
Pets are raised by increasing their intimacy points. This is done by feeding your pet. Once a pet is hatched, it will receive a random number of intimacy points, ranging from 100 to 399. The amount depends on the level of the pet. The lower the level, the more points it gets. The higher the level, the less points it gets. You can check your pet's intimacy points by using the @petintimacy command. Intimacy points follow the table below:
| Status | Points | Pet behavior |
| --- | --- | --- |
| Awkward | Below 100 | Pet is ready to leave. |
| Shy | 100 to 249 | Uses unhappy emotes like /pif and /wah |
| Neutral | 250 to 749 | Uses friendly emotes like /no1 and /ok |
| Cordial | 750 to 909 | Uses affectionate emotes like /kis and /lv |
| Loyal | 910 to 1,000 | Pet will grant bonuses, talk and use affectionate emotes. |
Feeding your Pet
A pet will get hungry as time passes. The rate in which it gets hungry depends on its level. The higher the level, the more time it takes for it to get hungry. The lower the level, the faster your pet will get hungry. Pet hunger is classified as:
| Status | Hunger Rate |
| --- | --- |
| Very Hungry | 0 to 10 |
| Hungry | 11 to 25 |
| Neutral | 26 to 75 |
| Satisfied | 76 to 90 |
| Stuffed | 91 to 100 |
Pet feeding should be done once it's hunger meter is in Hungry. This will yield higher intimacy points. However, it can also be done at Normal but the intimacy it gets will be lower. The rate in which a pet gets intimacy points is affected by its level. The higher the level, the less intimacy it gets per feeding. The lower the level, the higher the intimacy points it gets per feeding. You can lower your pet's intimacy by doing the following:
Overfeeding it. This is done by feeding your pet while its hunger meter is Satisfied or Stuffed.
Starving it. Once a pet gets to Very Hungry, for each 20 seconds it isn't fed, it loses intimacy points.
Dying. Each time you die, your pet loses intimacy points.
Note: Returning your pet to egg won't decrease its hunger and intimacy points.
List of Pets
Acidus (Blue)

Taming Item
None
Food
Blue Bijou
Egg
Blue Acidus Egg
Accessory
None
Bonus
STR + 2, +2% resistance to Water property attacks
Source
Direct Assault (Egg)
Alice
Taming Item
Soft Apron
Food
White Potion
Egg
Alice Egg
Accessory
None
Bonus
MDEF + 1, 1% reduction against Demi Human
Source
Evil Snake Lord (60%), Aliza (0.03%), Pet Shop
Alicel

Taming Item
None
Food
Monster's Feed
Egg
Alicel Egg
Accessory
None
Bonus
+10% reduction against monsters with boss status
Source
The Mystery of Rosimir Mansion (2009) (Egg), Anniversary Box (2013), Anniversary Box (2014)
Aliot

Taming Item
None
Food
Monster's Feed
Egg
Aliot Egg
Accessory
None
Bonus
+10% more damage to monsters with boss status
Source
The Mystery of Rosimir Mansion (2009) (Egg), Anniversary Box (2013), Anniversary Box (2014)
Baby Desert Wolf
Taming Item
Well-Dried Bone
Food
Pet Food
Egg
Baby Desert Wolf Egg
Accessory
Transparent Head Protector
Bonus
INT + 1, SP + 50
Source
Pirate Skeleton (0.6%), Hell Poodle (0.6%), Pet Shop
Baphomet Jr.
Taming Item
Book of the Devil
Food
Honey
Egg
Bapho Jr. Egg
Accessory
Skull Helm
Bonus
DEF + 1, MDEF + 1, -1% resistance to stun
Source
Marduk (0.6%), Pet Shop
Bongun
Taming Item
Her Heart
Food
Pet Food
Egg
Bongun Egg
Accessory
Grave Keeper's Sword
Bonus
VIT + 1, +1% resistance to stun
Source
Pet Shop
Cendrawasih

Taming Item
None
Food
Shipworm
Egg
Cendrawasih Egg
Accessory
None
Bonus
+1 to all stats
Source
Direct Assault, Rekenber Faction War Event Reward (2013) (Egg)
Chonchon
Taming Item
Rotten Fish
Food
Pet Food
Egg
Chonchon Egg
Accessory
Monster Oxygen Mask
Bonus
AGI+ 1, Flee + 2
Source
Wild Rose (1.05%), Megalodon (0.6%), Pet Shop
Deviruchi
Taming Item
Contract in Shadow
Food
Shoot
Egg
Deviruchi Egg
Accessory
Pacifier
Bonus
MATK + 1%, ATK + 1%, HP - 3%, SP - 3%
Source
Joker (0.6%), Pet Shop
Diabolic
Taming Item
Red Burning Stone
Food
Meat Skewer
Egg
Diabolic Egg
Accessory
None
Bonus
None
Source
Halloween (2010) (Egg), Pumpkin Harvest Reward Bag (2014) (Egg)
Dokebi
Taming Item
Old Broom
Food
Pet Food
Egg
Dokebi Egg
Accessory
Wig
Bonus
MATK + 1%, ATK - 1%
Source
Alice (1.2%), Bathory (0.6%), Pet Shop
Draco

Taming Item
None
Food
Monster's Feed
Egg
Draco Egg
Accessory
None
Bonus
None
Source
Monster Hunter Event (Egg), Anniversary Box (2013), Anniversary Box (2014)
Drops
Taming Item
Orange Juice
Food
Yellow Herb
Egg
Drops Egg
Accessory
Backpack
Bonus
HIT + 3, ATK + 3
Source
Drops (0.6%), Pet Shop
Ferus (Red)

Taming Item
None
Food
Red Bijou
Egg
Red Ferus Egg
Accessory
None
Bonus
STR + 2, +2% resistance to Fire property attacks
Source
Direct Assault (Egg)
Fire Imp
Taming Item
Ice Fireworks
Food
Pet Food
Egg
Imp Egg
Accessory
None
Bonus
+2% resistance against Fire property attacks, +2% more damage using Fire property attacks
Source
Fire Imp (0.03%), Ep 11.2 Open Beta (2008) (Egg), Anniversary Box (2013), Anniversary Box (2014)
Garm Baby

Taming Item
Garm Baby Capture
Food
Pet Food
Egg
Garm Baby Egg
Accessory
None
Bonus
INT + 2, +10% reduction against Water property attacks
Source
Christmas (2008-2009) (Tame), Anniversary Box (2013), Santa's Christmas Donuts (2013) (Egg), Anniversary Box (2014)
Green Maiden
Taming Item
Tantan Noodle
Food
Child Dumpling
Egg
Chung E Egg
Accessory
None
Bonus
Def + 1, Reduces damage from DemiHuman enemies by 1%
Source
Halloween (2010)
Hard Rice Cake

Taming Item
Chewy Rice Powder
Food
Monster's Feed
Egg
Alice Egg
Accessory
None
Bonus
+1% resistance to Neutral Property attacks, HP - 1%
Source
Lunar New Year (2015)
Hillslion

Taming Item
None
Food
Snapper
Egg
Hillslion Egg
Accessory
None
Bonus
+1 to all stats
Source
[Direct Assault]] (Egg)
Hunter Fly
Taming Item
Monster Juice
Food
Red Gemstone
Egg
Hunter Fly Egg
Accessory
Monster Oxygen Mask
Bonus
Flee - 5, Perfect Dodge + 2
Source
Vagabond Wolf (1.5%), Pet Shop
Hylozoist

Taming Item
Hylozoist Taming Item
Food
Monster's Feed
Egg
Hylozoist Egg
Accessory
None
Bonus
1% chance to transform a monster when attacking, +5% reduction against Demon Race
Source
Halloween (2008) (Tame), Pumpkin Harvest Reward Bag (2014) (Egg)
Isis
Taming Item
Armlet of Obedience
Food
Pet Food
Egg
Isis Egg
Accessory
Queen's Hair Ornament
Bonus
MATK - 1%, ATK + 1%
Source
Maya (15%), Verit (0.6%), Pet Shop
Jejeling
Taming Item
None
Food
Apple Pudding
Egg
Poring Egg
Accessory
None
Bonus
Dex + 1
Source
Summer Events (2015)
Little Blue Unicorn

Taming Item
None
Food
3Carat Diamond
Egg
Steel Chonchon Egg
Accessory
None
Bonus
Healing Power + 1%
Source
Future Release
Lunatic
Taming Item
Rainbow Carrot
Food
Carrot Juice
Egg
Lunatic Egg
Accessory
Silk Ribbon
Bonus
Crit + 2, ATK + 5
Source
Eclipse (1.5%), Lunatic (0.6%), Pet Shop
Miyabi Doll
Taming Item
Girl's Doll
Food
Well Ripened Berry
Egg
Miyabi Ningyo Egg
Accessory
Summer Fan
Bonus
INT + 1, Reduce Casting Time by 3%
Source
Amatsu Doll Festival (2014) (Tame)
Munak
Taming Item
No Recipient
Food
Pet Food
Egg
Munak Egg
Accessory
Punisher
Bonus
INT + 1, DEF + 1
Source
Pet Shop
New Year Doll
Taming Item
None
Food
Mochi
Egg
New Year Doll Egg
Accessory
None
Bonus
None
Source
Lunar New Year (2014)
Nightmare Terror
Taming Item
Hell Contract
Food
Fresh Plant
Egg
Nightmare Terror Egg
Accessory
Horn Of Hell
Bonus
100% resistance to Sleep
Source
Halloween (2013) (Egg)
Orc Warrior
Taming Item
Orc Trophy
Food
Pet Food
Egg
Orc Warrior Egg
Accessory
Wild Flower
Bonus
ATK + 10, DEF - 3
Source
Pet Shop
Peco Peco
Taming Item
Fatty Chubby Earthworm
Food
Pet Food
Egg
Peco Peco Egg
Accessory
Battered Pot
Bonus
HP + 150, SP - 10
Source
Hode (0.6%), Pet Shop
Petite
Taming Item
Shining Stone
Food
Pet Food
Egg
Green Petite Egg
Accessory
Stellar Hairpin
Bonus
DEF - 2, MDEF - 2, ASPD + 1%
Source
Zenorc (0.6%), Pet Shop
Picky
Taming Item
Earthworm the Dude
Food
Red Herb
Egg
Picky Egg
Accessory
Tiny Egg Shell
Bonus
STR + 1, ATK + 5
Source
Kukre (0.6%), Pet Shop
Poison Spore
Taming Item
Deadly Noxious Herb
Food
Pet Food
Egg
Poison Spore Egg
Accessory
Bark Shorts
Bonus
STR + 1, INT + 1
Source
Marina (0.6%), White Plant (0.6%), Muscipular (0.09%), Pet Shop
Poporing
Taming Item
Bitter Herb
Food
Green Herb
Egg
Poporing Egg
Accessory
Backpack
Bonus
LUK + 2, 10% reduction against Poison attacks
Source
Uzhas (3%), Green Plant (0.6%), Drosera (0.09%), Pet Shop
Poring
Taming Item
Unripe Apple
Food
Apple Juice
Egg
Poring Egg
Accessory
Backpack
Bonus
LUK + 2, Crit + 1
Source
Mastering (1.5%), Chepet (1.2%), Poring (0.6%), Pet Shop
Pouring

Taming Item
None
Food
Pet Food
Egg
Pouring Egg
Accessory
None
Bonus
1% Water damage resist. +1 MDEF
Source
JellyRO Rewards NPC (2012-2013)
Randel

Taming Item
None
Food
Worn-out Prison Uniform
Egg
Randel Egg
Accessory
None
Bonus
+1 to all stats
Source
Pax Imperia Faction War Event Reward (2013) (Egg), Anniversary Box (2014)
Rocker
Taming Item
Singing Flower
Food
Pet Food
Egg
Rocker Egg
Accessory
Rocker Glasses
Bonus
HP Recovery + 5%, HP + 25
Source
Mavka (9%), Flora (0.6%), Muscipular (0.06%), Pet Shop
Roween

Taming Item
None
Food
Pet Food
Egg
Roween Egg
Accessory
None
Bonus
None
Source
Ep 11.2 Open Beta (2008) (Egg), Anniversary Box (2013), Anniversary Box (2014)
Savage Babe
Taming Item
Sweet Milk
Food
Pet Food
Egg
Savage Babe Egg
Accessory
Green Lace
Bonus
VIT + 1, HP + 50
Source
Savage Babe (1.2%), Pet Shop
Seyren

Taming Item
None
Food
Worn-out Prison Uniform
Egg
Seyren Egg
Accessory
None
Bonus
+1 to all stats
Source
Rekenber Faction War Event Reward (2013) (Egg), Anniversary Box (2014)
Smokie
Taming Item
Sweet Potato
Food
Pet Food
Egg
Smokie Egg
Accessory
Red Scarf
Bonus
AGI + 1, Perfect Dodge + 1
Source
Horong (0.6%), Pet Shop
Sohee
Taming Item
Silver Knife of Chastity
Food
Pet Food
Egg
Sohee Egg
Accessory
Golden Bell
Bonus
STR + 1, DEX + 1
Source
Moonlight Flower (19.5%), Cat o' Nine Tails (4.5%), Tirfing (1.5%), Pet Shop
Spore
Taming Item
Dew Laden Moss
Food
Pet Food
Egg
Spore Egg
Accessory
Bark Shorts
Bonus
HIT + 5, ATK - 2
Source
Red Mushroom (0.6%), Black Mushroom (0.6%), Plankton (0.6%), Porcellio (0.06%), Pet Shop
Steel Chonchon
Taming Item
Rusty Iron
Food
Iron Ore
Egg
Steel Chonchon Egg
Accessory
Monster Oxygen Mask
Bonus
Flee + 6, AGI - 1
Source
Dragon Fly (1.5%), Waste Stove (1.5%), Scorpion (0.6%), Pet Shop
Teddy Bear

Taming Item
None
Food
Honey
Egg
Teddy Bear Egg
Accessory
None
Bonus
None
Source
Love Pet 2011: (Egg)
Wanderer
Taming Item
Vagabond's Skull
Food
Spirit Liquor
Egg
Wanderer Egg
Accessory
None
Bonus
None
Source
Halloween (2014) (Egg)
Yoyo
Taming Item
Tropical Banana
Food
Banana Juice
Egg
Yoyo Egg
Accessory
Monkey Circlet
Bonus
Crit + 3, LUK - 1
Source
Lady Tanee (100%), Choco (0.6%), Turtle Island Dungeon Entrance Quest, Pet Shop
Zherlthsh
File:Mob Zherlthsh.gif
Taming Item
Forbidden Red Candle
Food
Immortal Heart
Egg
Zherlthsh Egg
Accessory
None
Bonus
+2% physical and magical damage to Demi Humans
Source
Injustice (0.06%), Pet Shop